The reality of generating income for social purposes is that it's hard work, so arm yourself with the information you need to make it a success, writes Eastside Primetimers chief executive Richard Litchfield.
In what has been an awful decade for UK voluntary sector funding, social sector organisations are making more earned income than ever before, with NCVO reporting trading income rising from £7.8bn to £11bn in the latest sector figures.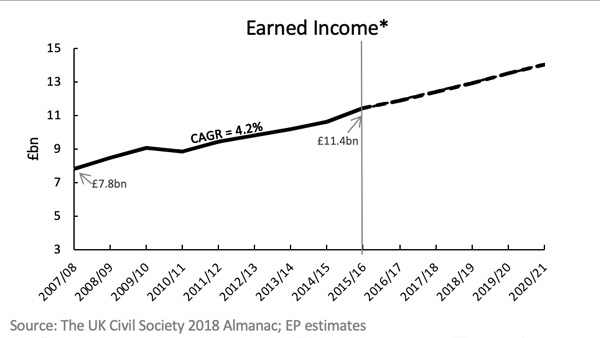 These figures paint a picture of an enterprising culture sweeping the sector, driven by government's decision to switch from grants to contracts, and charities' need to diversify and address shortfalls in their traditional income sources.
The enterprise agenda has also received political and financial backing. The UK government has supported the rise of social enterprises, there is new capital emerging in the form of social investment, and major foundations, such as the the National Lottery Community Fund (formerly the Big Lottery Fund) and Access Foundation, are investing millions in capacity-building to help charities to strengthen their income models.
For over a decade, we at Eastside Primetimers have advised social sector organisations (particularly charities) on how to set up and grow trading initiatives and enterprises. There has been an awful lot written about the inspiring stories of the new ways that social entrepreneurs are tackling old problems, but what's often not told is the operational reality facing those who embark on this journey.
"In this edition we take a hard look at the reality of generating income for social purposes"
After all, most are running what are effectively small businesses on a shoestring (the median income of UK social enterprises is just £125,000, according to Social Enterprise UK). They are faced with multiple challenges, some of which are typical to all SMEs and micro-businesses while others are unique and emerge due to the competing pressures of trying to make a buck and make a difference.
In this edition, therefore, we take a hard look at the reality of generating income for social purposes. For example, serial social entrepreneur Sarah Dunwell highlights that you must be realistic about the costs and effort involved in establishing a successful enterprise. Eastside Primetimers director, Bernice Rook, offers six top tips to get up and running.
What I'm constantly amazed about is how difficult this stuff is. Through our brilliant interviews, you can clearly spot two characteristics that unite all the stories of trading success – whether it's a social enterprise, a charity shop, or an enterprising charity – and that is they have a combination of an incredibly resilient leader (or leadership team) and they pay relentless attention to their service or product. When you read the stories here from Mike Taylor about the rise of the British Heart Foundation's charity shops or from Sandra Schembri at the House of St Barnabas, you'll understand how they've adapted and innovated – until they've found a model which works in their market for their beneficiaries and their customers. Time, money and patience are the gold dust.
This article originally appeared in the 'Enterprise Matters' edition of EP Insights, a regular new management briefing for social sector leaders produced by social sector consultants Eastside Primetimers. 'Enterprise Matters' explores challenges, tips and innovations to boost social enterprise and charity trading.